Navigation: Seletek > Focusing >
---
All the examples in this section will be using the "Focuser" program, the one that connects to the "Main" port of the device. The behavior of the "Focuser Exp" is exactly the same, except of course it will operate a motor hooked to the "Exp" port, etc.
First of all, please power the Seletek and plug it to a free USB port in your computer. Then launch the "Focuser" program, and the following screen will be shown: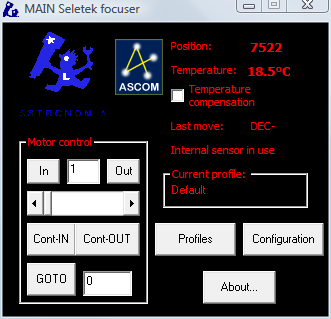 Let's explain the different elements you can now see:

Position: it shows us the current position of the motor in steps1.

Temperature: the temperature read using the selected sensor.

Temperature compensation: it shows whether the automatic compensation is activated or not. In order to do it we have to first "define" how the telescope behaves in respect to the temperature; we will see it later on.

Last move: it shows us whether the last motion was increasing position number (INC+) or decreasing it (DEC-). It is merely informative. In normal conditions, decreasing implies inward, and viceversa.

Internal sensor in use: presently used temperature sensor reminder.

The buttons that activate the motor are in the "Motor control" zone:
Pressing "IN", the motor will move inwards a number of steps (11 in the image) this is, reducing the distance between the objetive and the camera CCD (or the eyepiece if we are using it).

Pressing "OUT", we will obtain the opposite effect.

The scroll bar placed below, allows us to change the number of steps that the motor moves when pressing "In" or "Out"; sliding it to the left the number will decrease, to the right it will increase.

A specific step number can also be keyed in the zone where the steps (11 in the image) is displayed.

The buttons "Cont-IN" y "Cont-OUT" mean "Continuous-IN" or "Continuous-OUT"; when pressing it the motor will start moving until we drop the button (or until we reach the displacement limit-we will speak of the limits later on).

Last, the "Goto" button will move the motor to the position keyed in the text field just right of it.
Incidentally, the window of the "Main" program has been updated to reflect the present situation:
Back to the "focuser" window, there are three buttons left to access other windows
Profiles: it will take us to the window where we configure different profiles, mainly for temperature compensation purposes.

Configuration: to a window with the general parameters of the application and

About: to an informative window about the version, the system, etc.
Before going deeper into these and other questions, please notice that now, with no further configuration, you're ready to operate your focuser, from the "Seletek" window , adjusting focus while looking at real time images on the screen, or even automatically from FocusMax, Maxim DL or other ASCOM-focuser aware program.
---
Copyright (c) 2008-2017Lunatico Astronomia S.L.